Hire the Best Housekeepers in Orange County
For decades good housekeepers have held a certain prestige and power. There is indeed an art to quality housekeeping. At Euro-Eco House Cleaning the level of professionalism is second to none for European Style home cleaning services. Our cleaning skills, talent, reliability, honesty, integrity, and a commitment to excellence is what separate us from the other house cleaning companies.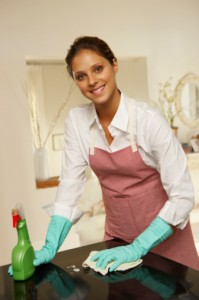 Euro Eco House Cleaning housekeepers use only high-grade cleaning products that are eco-friendly. There is no way they will leave any resemblance of toxic residue in any living area, office, or meeting room we work on.
Our housekeepers are a throwback to yesteryear when housekeepers ruled in the domestic arena. They are highly trained and well equipped to service individuals, businesses, or commercial venues. We supply them with our own cleaning supplies and equipment. Our Orange county housekeepers come with excellent references.
We know the best home cleaning methods for cleaning bathrooms, kitchens, living rooms, parlors, meeting rooms, or any room that needs this style of cleaning. For an extra fee we will clean inside refrigerators, steam carpets, clean furniture, wash baseboards, polish cabinets, clean fireplaces, ovens, windows and more. If you want the best then give us a call for the top quality European style housekeepers.
We are a reliable and honest home cleaning company who provides fast and reliable house cleaning services in Orange County. If you are ready to hang up your cleaning rags, mops and spend more time with your family on weekends. Give us a call at 949-735-4820 to schedule a free in-house estimate.
See for yourself why more homeowners hire us as their house cleaners, let us show you the Euro-Eco House Cleaning difference. With 13 years of home cleaning experience we are the premier house cleaners in our industry, we're here to help!