Get Best-in-Class Residential Cleaning Services In Orange County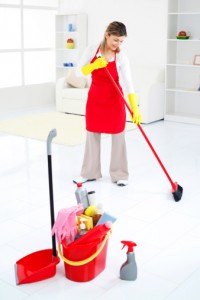 Keeping a clean home is just one of the challenges working families face on a daily basis, with everyone's busy work schedule; the house work often gets overlooked. Homeowners often only spend small amounts of time cleaning their homes, which can lead to mold growing in the bathroom, heavy dust particles and cob webs forming on the ceilings and drapes. However, there are residential cleaning services that will deep clean every part of your home to keep it sparkling clean, EuroEco House Cleaning; is one of these residential cleaning services. We have been proudly serving all of Orange County since 1999. We use non-toxic cleaning supplies to ensure your kids and pets don't get sick from the toxic residue left behind.
Our staff provides the highest European style residential cleaning services in the industry and all of our work is completely guaranteed. With our European cleaning services your residence will stay clean until the next time we come out and clean. We offer weekly, bi-weekly and other types of scheduled cleaning services. Part of our cleaning services includes: bathrooms, bedrooms, kitchens, furniture, baseboards and for an additional charge we can clean, the inside of the kitchen oven, inside of the refrigerator and windows.
At EuroEco House Cleaning, we are reliable, honest, and provide the highest quality residential cleaning services. When we get done with your home it will look like a home you would see on the cover of Housekeeping Magazine. Give us a call at 949-735-4820 to schedule an in-house free estimate or to schedule your first residential cleaning. We are the premier house cleaning services, see for yourself why more people hire us as their long-term residential cleaning company.