Benefits to Hiring Professional Window Cleaning Service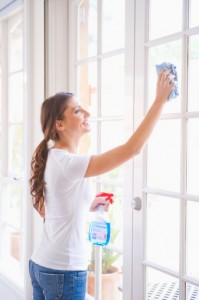 More and more homeowners are discovering the joys of simply relaxing and enjoying their home at the end of the day or on weekends by leaving their home cleaning chores to our European style professional home cleaning service, Euro Eco House Cleaning services. Our company has many years of experience in the area providing homeowners with fast and reliable house and window cleaning services throughout Orange County. We use only eco-friendly cleaning products to eliminate the build-up of toxic residue and pollution from all living areas of your home so that you can enjoy the healthiest home environment possible.
Window cleaning is just one example of the home cleaning services we can do faster and more efficiently than a homeowner can. Our cleaning technicians are experienced professionals who use commercial-grade equipment to remove dirt, pollution and grimy film from all interior and exterior window surfaces, allowing homeowners to have windows that sparkle and shine in addition to providing unobstructed views of the outdoors. Many homeowners struggle with cleaning their windows as a once a year spring cleaning ritual, causing their overall property value to dip because every home benefits from at least monthly window cleaning procedures. Our European style window cleaning services are the most cost efficient and effective way to keep every window in your home clean and offering a brighter view of the world outside in addition to making your property look neat and well cared for.
Many homeowners who are seniors or have mobility issues can't do the reaching and climbing necessary to do a thorough window cleaning job. When you hire Euro Eco House Cleaning services, not only will your windows shine but so will your walls, carpeting, upholstery and tiled areas. We leave no nook or cranny undisturbed as our professional cleaning crew delivers superior cleaning results for every room of your home. Just because your home is your castle doesn't mean that you have to be the one doing all the hard work of cleaning it. Our professional home cleaning services, specializing in window cleaning, will make you fall in love with your home all over again. Call us at 949-735-4820 to receive a free in home estimate in Orange County.